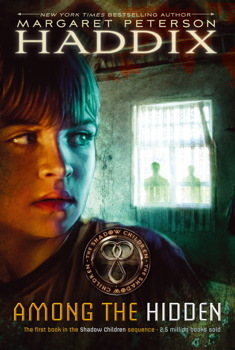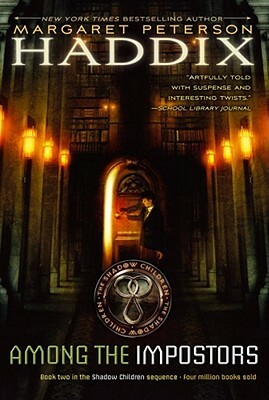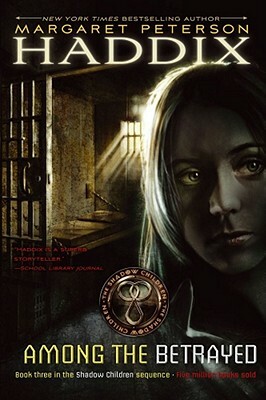 Series or Stand Alone: Shadow Children Series 1-3
Release Date: 1998 - 2006

Publisher: Simon & Schuster Publishing
Genre: Juvenile Fiction/Dystopian/Science Fiction
ISBN: Unavailable for Series
Edition:
Hardback & Paperback (also available in Paperback, Audiobook, and eBook)

Rating:

★

★★☆ ☆ (2.5 over all)
Review Written: 10 February, 2022
Content Warnings:
Child death, Confinement, Death, Misogyny, Sexism, Grief, Gun violence, Violence, Police brutality
Summary:
In a future society that allows only two children per family, all third children are in danger from the dreaded Population Police, and these forbidden kids must work together to survive. Margaret Peterson Haddix's Shadow Children books are a huge hit with today's young readers, and now fans can own all seven thrillers from the best-selling series. Kids won't be able to stop turning the pages of each gripping read! Includes: Among the Hidden, Among the Impostors, Among the Betrayed, Among the Barons, Among the Brave, Among the Enemy, and Among the Free.
See more by Margaret Peterson Haddix on her website.
This book series was picked by a tween book club at my place of work for their first book. So naturally, I had to pick up the first book to see what it was about. I'll also admit I was hoping for some of the nostalgia I had for Haddix's writing as I love her novel Running Out of Time.
I have to say I was slightly disappointed in the first 3 novels of this 7 book series. Each book is roughly 150-200 pages, which is great for beginning readers. However, the titles give a lot away (Hidden - Main character is hidden al day, Imposters - Everyone is a 3rd child impersonating legitimate citizens, Betrayed - The main character is faced with the decision to betray a group of other children after being betrayed), and the action in the books is mostly contained to the last 25% of the book.
The first two books (Among the Hidden and Among the Imposters) focuses around Luke, a third child to a family of farmers who isn't supposed to exist. In Among the Hidden, Luke loses what little freedom he had (going outside) due to the woods behind his home getting sold. The woods are torn down and a subdivision for government workers (mostly Barons, or wealthy people) is built. For months, Luke is confined to the second floor and attic of the house, especially after his mother takes a job at a processing plant to help pay the taxes on their house. Their farm is also hurt by the government ordering them to stop raising pigs because it was "unsightly".
Luke eventually realizes (after months of watching) that one of the Baron families has a third child. Luke, stir crazy from being a prisoner in his own home, finally dares to cross the space between their yards and breaks in. Here he meets Jen, a third child of a Baron's family, who is desperate to change the rules. She wants to ensure that 3rd children no longer have to hide. Much of the book focuses on Jen's plan for a rally in front of the White House to bring attention to second children. Luke, though he debates it, decides not to go, and ultimately that saves his life. Jen dies, Luke gets found out for breaking into her house and being caught by her stepfather who works for the Population Police.
Luke is then gifted a new identity (Lee Grant), and moved to a boarding school for "troubled" Baron children with the thought that he's run away. The real Lee Grant died in a snowboarding accident. While at school, Luke has a bit of an identity crisis, wanting to stay true to who he is but also surviving under his new name. Though he's not used to school, Luke eventually finds his way out of the school and starts creating a garden. The garden however is trampled and he soon realizes that there are others sneaking out of the school at night and meeting with girls from the Girl Boarding School across the woods.
Luke gets sucked into the group, only to discover the leader is working for the Population Police, ready to betray his fellow students as quickly as he can. He ends up breaking up the plot and getting the betrayer at both schools (Nina and Jason) arrested.
Book three, Among the Betrayed shifts abruptly to following Nina's point of view as she's held captive by the Population Police. She's surprised to realize that they don't know she's a third child, but just think she's a traitor to the country due to her "false" reports. She's offered a chance to save herself by actually working for the Population Police in trying to get information from some recent captives of the Population Police. Nina is left to decide if she's going to betray this group of children or if she'll help them. In the end, she learns it's all a test and she is moved to a different school for 3rd children to keep her identity safe.
While the series has some appeal and a decent plot line, each book felt like it ended very abruptly. The characters seemed extremely naïve in some regards, despite supposedly being teenagers. The abrupt shift in narrators is jarring, and it seemed rather cruel for Nina to be "tricked" the entire time she was working with the trio. Honestly, these books are good for the middle grade levels, but if you're looking for nostalgia perhaps it's best to stick to some of Haddix's other books. I don't know if I'll pick up the other 4 books in this series, each one seems like much of the same to me.