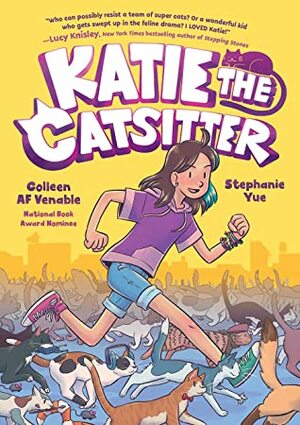 Series or Stand Alone: Katie the Catsitter #1
Release Date: 5 January, 2021

Publisher: Random House Children's Books Publishing
Genre: Juvenile Fiction/Graphic Novels/Middle Grade
Edition:
Paperback (also available in Hardback and eBook)
Review Written: 15 February, 2022
Content Warnings:
None
Summary:
A new middle-grade graphic novel series about growing up, friendship, heroes, and cats (lots of cats!).
Katie is dreading the boring summer ahead while her best friends are all away at camp--something that's way out of Katie and her mom's budget, UNLESS Katie can figure out a way earn the money for camp herself. But when Katie gets a job catsitting for her mysterious upstairs neighbor, life get interesting.
First, Madeline has 217 cats (!) and they're not exactly . . . normal cats. Also, why is Madeline always out EXACTLY when the city's most notorious villain commits crimes?! Is it possible that Katie's upstairs neighbor is really a super villain?
Can Katie wrangle a whole lot of wayward cats, save a best friendship (why is Beth barely writing back? And who's this boy she keeps talking about?!), AND crack the biggest story in the city's history? Some heroes have capes . . . Katie has cats!
See more by Colleen A.F. Venable on her website.

I'll admit I'm a sucker for cats. Please see the numerous picture book round-ups that feature at least one cat themed book. So when this book popped up on the South Carolina Award Nominees List for 2022-2023, I was psyched.
Katie's your typical twelve-year-old, who's disappointed that her friends are off at camp. Though one friend tries to gift her a week at the camp, Katie's determined to earn the money herself. Enter a "get rich quick" scheme where she offers to carry groceries, plant sit, and other various odd jobs around her apartment complex. After several failed attempts (she can't carry her neighbor's groceries up the stairs, killing another neighbor's plants by accident), Katie is about to give up when her upstairs neighbor Madeline asks for her help in watching her 217 cats while she's at a work function.
Katie soon realizes that the cats are more than she bargained for as they create a lot of chaos until right before the clock strikes 12 a.m. (the time Madeline said she'd be home). There's a number of cute antics (like the cat's continually stealing the landlord's couch and causing her to believe there's a couch thief on the loose), before a night arrives where Madeline doesn't come home. It's up to Katie and the cats to pull off a rescue mission for Madeline.
This book is adorable, highlighting the struggles of middle school but bringing humor into the world. Katie and the cats are ridiculously fun to watch, especially in her power-struggles to have them behave. All in all this graphic novel will be fantastic for any would-be catsitter or just preteen.
I can't wait to read the next installment in this series, Best Friends for Never.