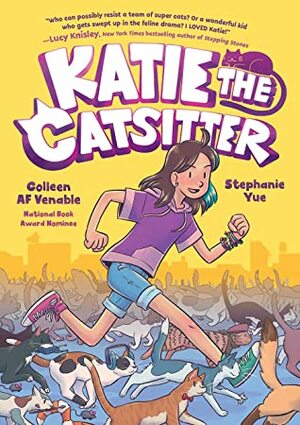 Series or Stand Alone: Katie the Catsitter #1
Release Date: 5 January, 2021

Publisher: Random House Children's Books Publishing
Genre: Juvenile Fiction/Graphic Novels/Middle Grade
Edition:
Paperback (also available in Hardback and eBook)
Review Written: 15 February, 2022
Content Warnings:
None
Summary:
A new middle-grade graphic novel series about growing up, friendship, heroes, and cats (lots of cats!).
Katie is dreading the boring summer ahead while her best friends are all away at camp--something that's way out of Katie and her mom's budget, UNLESS Katie can figure out a way earn the money for camp herself. But when Katie gets a job catsitting for her mysterious upstairs neighbor, life get interesting.
First, Madeline has 217 cats (!) and they're not exactly . . . normal cats. Also, why is Madeline always out EXACTLY when the city's most notorious villain commits crimes?! Is it possible that Katie's upstairs neighbor is really a super villain?
Can Katie wrangle a whole lot of wayward cats, save a best friendship (why is Beth barely writing back? And who's this boy she keeps talking about?!), AND crack the biggest story in the city's history? Some heroes have capes . . . Katie has cats!
See more by Colleen A.F. Venable on her website.