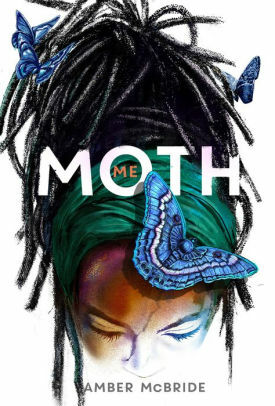 Series or Stand Alone: Stand Alone
Release Date: 17 August, 2021

Publisher: Feiwel and Friends
Genre: Young Adult/Contemporary/Romance/Magical Realism/Poetry
Edition:
Hardback (also available in Audiobook, and eBook)
Review Written: 11 February, 2022
Content Warnings:
Death, Grief, Car accident, Death of parent, Child death, Physical abuse, Mental illness, Death of parent, Physical abuse, Suicidal thoughts, Addiction, Bullying, Child abuse, Chronic illness, Cursing, Drug abuse, Eating disorder, Racism, Abandonment
Summary:
A debut YA novel-in-verse by Amber McBride, Me (Moth) is about a teen girl who is grieving the deaths of her family, and a teen boy who crosses her path.
Moth has lost her family in an accident. Though she lives with her aunt, she feels alone and uprooted.
Until she meets Sani, a boy who is also searching for his roots. If he knows more about where he comes from, maybe he'll be able to understand his ongoing depression. And if Moth can help him feel grounded, then perhaps she too will discover the history she carries in her bones.
Moth and Sani take a road trip that has them chasing ghosts and searching for ancestors. The way each moves forward is surprising, powerful, and unforgettable.
Here is an exquisite and uplifting novel about identity, first love, and the ways that our memories and our roots steer us through the universe.
See more by Amber McBride on her website.
A beautiful tragic story. Moth moved in with her aunt after the deaths of her family. Most days, she feels invisible in her own home, in her life. When Sani comes into her life, she's drawn to him because it feels like someone finally sees her.
In a twist of fate, Moth's aunt leaves for the summer, not bothering to tell her goodbye to her face. After Moth witnesses Sani's step-father hitting him, the pair decide to road-trip back to Sani's home in the Navajo Reservation. Throughout the story, Moth and Sani slowly work their way through the Southern United States, pausing to look at the various sites along the way. At one point they stop at a graveyard where Moth and her grandfather buried a picture of themselves and a white feather under a tree.
This book destroyed me emotionally. I didn't expect the twist at the end (spoiler:
Moth turns out to be dead the entire time and Sani can see the dead
) and it absolutely devastated me. The book explores the topic of grief, which is often a twisting stumbling path we all take. Three of my grandparents died in 2018, and still 4 years later I still get overwhelmed with grief at times. Me (Moth) is a good reminder to not get swallowed up by our grief. We have to keep living and recognize that those we love aren't truly gone.
I look forward to seeing what else Ms. McBride comes up with in her future novels.