If it's not clear, I dearly love books and have a reading list that is probably as long a list as the video games, movies, and music that I enjoy. That being said, here are four new books I've added to my personal collection over the past month but haven't quite gotten around to reading yet.
Title: A Hobbit Devotional: Bilbo Baggins and the Bible
Author: Ed Strauss
Summary: This cute little devotional parallels passages in the Bible with various passages in Tolkien's famous novel The Hobbit. Ed Strauss does a good job at using Bilbo as an example of relatable experiences that many of us have experienced in our day to day lives.
I have managed to start reading this, though I've not gotten very far, I'm finding it very enjoyable.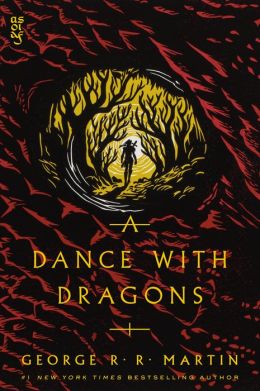 Title: A Dance with Dragons (A Song of Fire and Ice #5)
Author: George R. R. Martin
Summary: A Dance with Dragons picks up where A Feast of Crows leaves us in the epic saga of Westeros and the struggle for the position of King on the Iron Throne.
I received this book for Christmas, however since I'm still working my way through A Feast of Crows, I'm afraid this one will have to wait a while. Perhaps it's a good thing the sixth book in the series hasn't had a release date announced yet.
Title: Souless: An Alexia Tarabotti Novel (The Parasol Protectorate #1)
Author: Gale Carriger
Summary: Alexia Tarabotti is laborig under a great many social tribulations. First she has no soul. Second, she's a spinster whose father is both Italian and dead. Third, she was rudely attacked by a vampire, breaking all standards of social etiquette. Where to go from there? From bad to worse apparently, for Alexia accidentally kills the vampire -- and then the appalling Lord Macon (loud, messy, gorgeous, and werewolf) is sent by Queen Victoria to investigate. With unexpected vampires appearing and expected vampires disappearing, everyone seems to believe Alexia is responsible. Can she figure out what is actually happening to London's high society? Will her soulless ability to negate supernatural powers prove useful or just plain embarrassing? Finally, who is the real enemy, and do they have treacle tart?
I started this novel last fall, however life got hectic and I had to return it to the library. Now I've gotten my own copy, so we'll just start over again and see where Alexia's adventures lead her.
Title: The Sable Quean
Author: Brian Jacques
Summary: In which Buckler the hare, Blademaster of the Long Patrol, must save the youngsters of Redwall Abbey -- kidnapped by vile Vilaya the Sable Quean and her vermin Ravagers -- and stop the villains' conquest of Mossflower Woods...
I've love the Redwall series for a very long time, and have only a few more of the books to add to my collection. I haven't read this particular one yet and was thrilled to be able to add it to my collection.