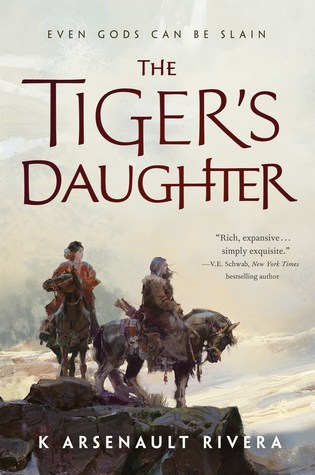 Series:
Their Bright Ascendency #1
Release Date:
3 October, 2017
Genre
: Fantasy/LGBT/Asian Fantasy?
Edition:
Advanced Reader Copy
Review Written:
28 October, 2017
Summary:
Even gods can be slain…. The Hokkaran empire has conquered every land within their bold reach―but failed to notice a lurking darkness festering within the people. Now, their border walls begin to crumble, and villages fall to demons swarming out of the forests. Away on the silver steppes, the remaining tribes of nomadic Qorin retreat and protect their own, having bartered a treaty with the empire, exchanging inheritance through the dynasties. It is up to two young warriors, raised together across borders since their prophesied birth, to save the world from the encroaching demons. This is the story of an infamous Qorin warrior, Barsalayaa Shefali, a spoiled divine warrior empress, O-Shizuka, and a power that can reach through time and space to save a land from a truly insidious evil.
See more at Ms. Rivera's Website
.
I received this book as an ARC from Netgalley in exchange for my honest review.
I wanted to like this book, really I did. It's hard to find well-written Lesbian novels that feature women of color, and so I was excited to see it and start reading. The first couple of chapters were alright, though strangely written in a reminiscent letter kind of way. I ultimately had to shelve this novel at 56% completed because I just completely lost interest in it and couldn't get past the blatant use of racial slurs and obvious lack of any proper research into this book.
Honestly it was difficult for me to judge where this book was supposed to be set geographically. I'll admit my knowledge of Asian culture is severely lacking, but it was just difficult to tell. I spent most of the book thinking it was set in a civilization based on Ancient China, but after a bit more research (and reading a few other reviews), I realized this book was supposed to be set in a Japanese like setting with the secondary main character group being based on the Mongolian culture.
This book was full of racism, inaccuracies, and words that had been modified by one letter so that it wasn't quite the same. The honorifics for example became -sun and -tun instead of -san and -tan. Minor changes, but they begin adding up. On top of this, Rivera chose to make the name for her main group of people (the Hokkaran) Ricetongue in the Qorin language. I'm not the best person to speak about racial slurs since I'm not Asian, but the term makes me feel extremely uncomfortable in this setting. Which should have been a point to do that, but the term was used casually and throughout the parts of the book I read.
I did make it to the scenes of Shefali and Shizuka together, but it was mostly uncomfortable and awkward to read. The passion that they supposedly felt didn't translate well to me and it seemed more as a slap to the face of Shefali's mother and Shizuka's uncle than actual passion. It also felt as if Rivera had tried to use the supposed prophecy of from the pairs birth to hint at the romance. It was highly unenjoyable all the way around.
I'm disappointed in this book, it had a lovely description but it completely failed on all fronts to be any kind of decent book.