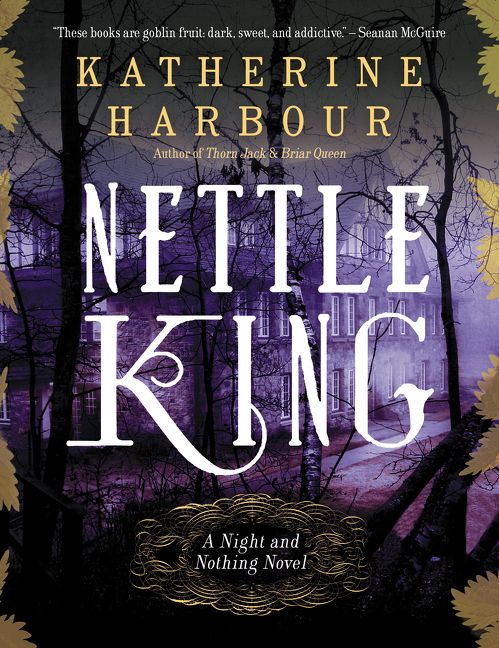 Series:
Night and Nothing #3
Release Date: 19 April, 2016
Genre
: Young Adult/Fantasy/Paranormal/Fairy Tales, Folk Tales, Legends & Mythology
Edition: Audiobook
Review Written: 28 October, 2017
Summary:
When her beloved Jack disappears, Finn vows to find him—even if it means a daring odyssey into the land of the dead. But saving Jack comes at a terrible price: a dangerous fissure has opened, giving the dead access to the true world.
The lines between worlds are more blurred than ever. Finn's sister, Lily, recently returned from the Ghostlands, seems to bear no scars from her time there. But then their friend Moth returns from Sombrus, the magical house once owned by Seth Lot, bearing shocking news. Something evil—a fearsome creature bearing a striking resemblance to Jack—has escaped Sombrus and is now stalking Fair Hollow, killing everyone it encounters, transforming them into terrifying Jacks and Jills and recruiting the Unseelie.
It will not stop until it gets what it wants . . .
Finn.
See more at HarperCollins's website.
The final installment of Harbour's Night and Nothing series,
Nettle King
picks up where
Briar Queen
left readers wondering about Moth's true identity and what happens next. Jack's gone to the world of the dead, having sacrificed himself to allow Lily Rose to return to the world of the living. Though he told Finn to forget about him and move on with someone who wasn't nearly as old as himself, Jack seems to have forgotten how stubborn Serafina Sullivan really is. What's more, Sylvy's apprenticed herself to the Black Scissors while Christy's joined up with Phooka to try and utilize his witch-blood heritage (which was revealed in book 2).
Both are following Finn as she attempts to speak to the 4 elemental leaders who control the entrances to the land of the dead and who could offer a guide. Nearly all of Finn's attempts fail as the various spirits either refuse her offering or realize she's been helped by the Rooks or by the once dopplegangers of Christy and Silvy. Desperate to find a way in, and terrified of losing Lily to the darkness that keeps seeping into the world from unknown sources, Finn promises to give up only to be captured by a now human Caliban (death apparently doesn't stay permanent if killed in a doorway to the ghostlands) and dragged along to the world of the dead. Which, funnily enough can be accessed through a derelict amusement park in the tunnel of Love.
From here, she's released into the land of the dead with Caliban pointing her in the mostly right direction to find Jack while he goes off to do his own thing. Presumably to become a Jack once more since he apparently hates being human. Nightmares scenes and haunting imagery give readers a feeling of being within this twisted world itself. We're brought back to Lily's friend Norn who apparently leads the Wild Hunt, who tells them to just leave after a wild night of abandon together.
The rest of the book follows Christy and Silvy's questions of their paths being the right one for them, attempts to defeat the army of Unseelie and the Undead that are beginning to roam the land of the living, and Finn's quest to try and save her sister before all hell breaks loose. Personally I felt
Nettle King
held more interesting details and filled in many of the missing gaps for the previous books. Notes and writings of Finn's mother are discovered hidden in her paintings, showing the slow downward spiral in her mind as she tried to grapple with the reality of the Fata. The spirit in the house is revealed to be Gran Rose, who Mr. Sullivan admits he probably shouldn't have scattered some of her ashes around the house though it was requested of him.
In the end, Finn and Jack will get their happily ever after though Finn has made a sacrifice to prevent anyone else getting tangled into the court for a long while. Christy and Silvy both decide that the path of magic and violence isn't for them, and the end of the book sees everyone settling in to attempt to find a new normal in life.