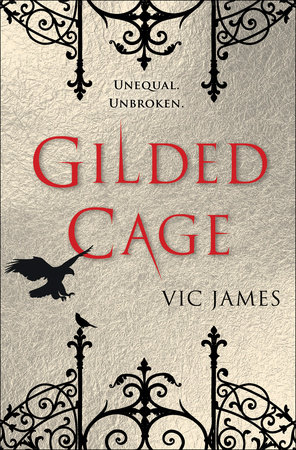 Series:
Dark Gifts #1
Release Date: 14 February, 2017
Publisher:
Penguin Random House
Genre
:
Young Adult/Science Fiction/Political fiction/Contemporary Fantasy
Edition: Ebook
Review Written: 23 September, 2017
Summary:
In modern-day Britain, magic users control everything: wealth, politics, power—and you. If you're not one of the ultimate one-percenters—the magical elite—you owe them ten years of service. Do those years when you're old, and you'll never get through them. Do them young, and you'll never get over them.
This is the darkly decadent world of Gilded Cage. In its glittering milieu move the all-powerful Jardines and the everyday Hadleys. The families have only one thing in common: Each has three children. But their destinies entwine when one family enters the service of the other. They will all discover whether any magic is more powerful than the human spirit.
Have a quick ten years. . . .
See more at Penguin Random House's Website.
Set as an alternative history novel, Vic James's debut novel is a rollercoaster of magic and intrigue as readers follow the story of six individuals whose lives are about to be altered irrevocably. Luke Hadley thought that he'd be able to pick his own Days, when to do the mandatory ten years of service he's required by British law to fulfill. His parents however, have a different plan. Since doing your days can affect what jobs you can do once you get out, they decide to simply go on and do their days and bring their children with them. Aly has a choice, she's eighteen, but to Luke it's a blow to his entire life to be told he has to go and leave behind everything he's known.
Problems arise when Luke isn't initially taken to the Kyneston estate with his parents and sisters. Rejected by the Lady Jardine, Luke is sent off to Millmoor, the slave-town where it's a struggle to survive. Which, by all rights, should be impossible as children under 18 are required to be with their parents to serve their days. On the wrong side of a brutal security guard for trying to help a street girl he attempted to save on his first day in the place, Luke gets drawn into a world of treason and perhaps the end of the slave days by Doc Johnson. Problem is, it's a lot different to do things in a slave-city than to do them on an estate.
Meanwhile, Chancellor Winterborne Zelston is caught up in a plot to twist everything that keeps the country running. At the request and a bit of cohersion by Silyen Jardine, he puts forth a proposal to end the slavedays in exchange for the return of his life-long love. The love who just happens to be Silyen's aunt who's lain in a coma for the past twenty-five years. While he struggles with what he's been forced to propose, other forces begin to work to undermine his regime and simply destroy the world.
The
Gilded Cage
is full of twists and turns readers will love, though a small understanding of politics might be required to follow completely. It was difficult at times to keep up with who belonged to what family. Also the idea of Skill, while followed, was never fully explained. While it seems some individuals are super powerful, some seem to barely have any Skill or even a rare few have no Skill at all among the upper crust of society. Perhaps the next novel,
Tarnished City
will clear up some of the unexplained and unfulfilled plotlines that were left at the end of the novel.