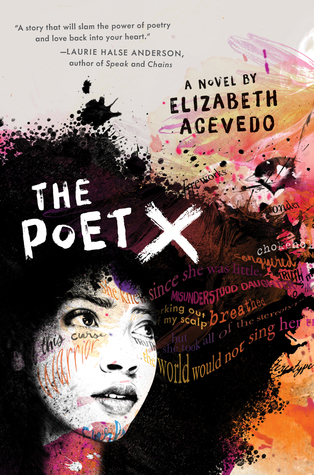 Cover image from the goodreads website.
Series: N/A
Release Date: 16 March, 2018
Genre: Young Adult Fiction/Emigration & Immigration/Social & Family Issues/Coming of Age/Poetry
Edition: Audiobook (also available in Kindle and Hardback)
Review Written: 11 February, 2019
Summary:
A young girl in Harlem discovers slam poetry as a way to understand her mother's religion and her own relationship to the world. Debut novel of renowned slam poet Elizabeth Acevedo. Xiomara Batista feels unheard and unable to hide in her Harlem neighborhood. Ever since her body grew into curves, she has learned to let her fists and her fierceness do the talking. But Xiomara has plenty she wants to say, and she pours all her frustration and passion onto the pages of a leather notebook, reciting the words to herself like prayers—especially after she catches feelings for a boy in her bio class named Aman, who her family can never know about. With Mami's determination to force her daughter to obey the laws of the church, Xiomara understands that her thoughts are best kept to herself. So when she is invited to join her school's slam poetry club, she doesn't know how she could ever attend without her mami finding out, much less speak her words out loud. But still, she can't stop thinking about performing her poems. Because in the face of a world that may not want to hear her, Xiomara refuses to be silent.
See more by Elizabeth Acevedo at her
Website
.
The Poet X has been on my to-read list for a while now. When it finally popped up on my overdrive account, I was quick to give it a listen. In this flowing coming of age story, we meet Xiomara who describes her life as a dual-edged sword. She constantly feels like she is held to a higher standard by her immigrant mother than her brother, especially since her body grew curves and she fights to protect her brother. Her brother who is the only one who really gets her but even he feels like he's starting to drift away.
The beautifully flowing poetry made for a fantastic listen, one that I couldn't seem to pause much. Acevedo's work flows and lends itself to emotion with a grace while not skipping the hardest details in Xiomara's life. Through the poetry, readers will see Xiomara grow into her own, coming to terms with her mother's religion and her own poetry. Once she joins the slam poetry club, Xiomara finds herself a group of people who like her for her instead of wanting to pressure her into doing things that would cause her mother to throw her out.
Though there are tough issues tackled within the pages of the book, The Poet X proves that poetry is still a relevant art form. And sometimes poetry is the best form to use for self expression.
The Poet X was named the Pura Belpré Author Award winner for 2019, the Printz Award winner 2019, and one of the honor books for the Odyssey Award for best Audiobooks for teens. It has previously won the National Book Award and Golden Kite Honor Award.