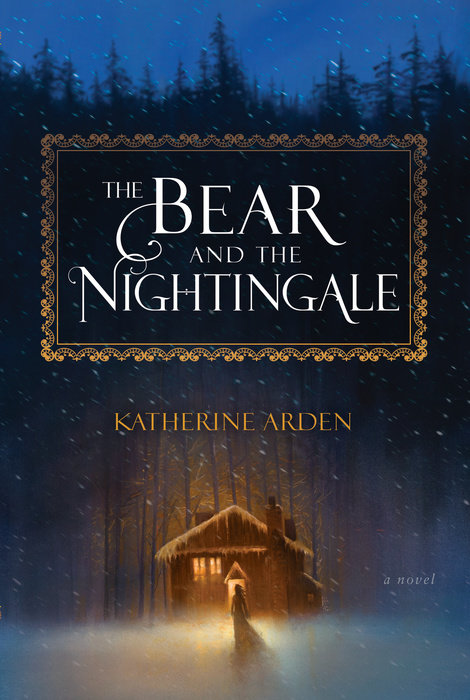 Release Date: 10 January, 2017
Genre
: Young Adult/Epic Fantasy/Family/Fairy Tale Retellings
Edition: Audiobook
Review Written: 31 August, 2017
Summary:
At the edge of the Russian wilderness, winter lasts most of the year and the snowdrifts grow taller than houses. But Vasilisa doesn't mind—she spends the winter nights huddled around the embers of a fire with her beloved siblings, listening to her nurse's fairy tales. Above all, she loves the chilling story of Frost, the blue-eyed winter demon, who appears in the frigid night to claim unwary souls. Wise Russians fear him, her nurse says, and honor the spirits of house and yard and forest that protect their homes from evil.
After Vasilisa's mother dies, her father goes to Moscow and brings home a new wife. Fiercely devout, city-bred, Vasilisa's new stepmother forbids her family from honoring the household spirits. The family acquiesces, but Vasilisa is frightened, sensing that more hinges upon their rituals than anyone knows.
And indeed, crops begin to fail, evil creatures of the forest creep nearer, and misfortune stalks the village. All the while, Vasilisa's stepmother grows ever harsher in her determination to groom her rebellious stepdaughter for either marriage or confinement in a convent.
As danger circles, Vasilisa must defy even the people she loves and call on dangerous gifts she has long concealed—this, in order to protect her family from a threat that seems to have stepped from her nurse's most frightening tales.
See more at Penguin Random House's website.
In this gorgeous blend of Russian Folklore and narrative, Vasilisa is perhaps the most unlikely of heroines. Raised by an aging nurse and her older siblings after the passing of her mother, Vasya has always stood apart from others. Quick and sly as a fox, with a wild streak that includes often "borrowing" her brother Alyosha's clothes and running wild in the forest near her father's home. For years, few can reign the seemingly "mad" daughter of Pyotr Vladimirovich in for long, not even her father. After much deep thought, Pyotr packs up his tribute and his eldest sons Sasha and Kolya to travel to Moscow to find a new wife for himself and a husband for his daughter Olga.
This was possibly one of the most important moments in the early parts of the novel. During this trip, Pyotr is held as a guest of the Grand Prince of Moscow who happens to be his brother-in-law from his first wife. Though he truly doesn't wish to get married again, he understands that his youngest needs a mother and thus begins the parallels to many of the stories that Dunya entertained the family with during the winter nights. Anna Ivanovna is the daughter of the Grand Prince from a previous marriage and considered "mad" by many to the point that her stepmother wishes to be rid of her. Though Anna longed to go to a convent, the Grand Prince is persuaded to marry her to Pyotr with the agreement that Olga will marry one of the cousins of his young son. It's an unsteady marriage, with Anna's unwillingness to believe in the household spirits and declaring that the rest of the village must stop paying tribute to them as well.
Seven years after Anna arrives, the village receives a new priest in the form of Father Constantine. Sent to the lands of Pyotr for fear he might sway the crowds of Moscow against the newly appointed Grand Prince, Constantine takes a dark interest in Vasya. Determining her to be in need of saving when she fails to show fear to his preachings on damnation and her insolence of being outspoken and refusing to act like a proper lady; Constantine beings to sway the village into a sense of panic and fear. Following his arrival many finally do away with any sort of offering towards their household spirits and the ones in Vasya's home are only sustained by Vasya herself offering tribute.
The story progresses fairly quickly after Constantine's arrival, with Vasya becoming more and more of a Witch in the villagers' eyes. Her rudeness to the priest, her outspoken attitude and her newfound skills of riding horses bareback without saddle or bridle cause fear. Meanwhile, a promise her father made during his trip to Moscow seven years prior begins to reassert itself. Having met with Morozko, the Winter King or Death, Pyotr promises to gift Vasilisa a pendant in exchange for his son Kolya's life. Now, Dunya who has held onto the talisman for seven years is fearful to give it to Vasya, knowing that it will potentially sell her to the Winter King. During this, Anna is trying desperately to rid herself of Vasya as well since she's realized that Constantine is far more interested in her step-daughter instead of her. Forces of old and new evil conspire to rid the lands of Vasya so the Old Bear can awaken and break his chains to feast upon the souls of men. Only a miracle and some magic can help Vasya and her unlikely band of misfit spirits can help rebind the threat and keep him from destroying everything.
Originally I received an ARC version of this book from NetGalley, however time conspired against me and I ended up falling behind on actually reading the book at the time. Since my return to getting books from Audible, I decided that I'd grab the audio version of this tale since it had been on my read list for a while. I must say I wasn't disappointed with my choice, the story is well written with the sprinkling of history and fantasy blending together in a harmonious marriage. Arden introduces readers to a wider spectrum of fairy tales and creatures that they might not know outside of Eastern Europe and Russia itself. The book is read by Kathleen Gati, who does a wonderful job bringing the story to life. I'll admit I enjoyed more than I might have reading it to myself as Gati's pronunciations of the names and varying tones for characters truly brought the production to life.
I am looking forward to the second book in this series,
The Girl in the Tower
. I do have an ARC of this from NetGalley and hopefully will find the time to read it before it's release in December.