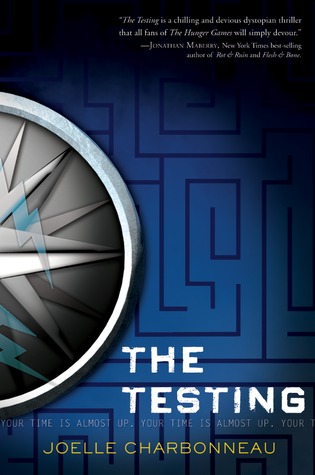 GoodReads Summary:
Keep your friends close and your enemies closer. Isn't that what they say? But how close is too close when they may be one in the same?
The Seven Stages War left much of the planet a charred wasteland. The future belongs to the next generation's chosen few who must rebuild it. But to enter this elite group, candidates must first pass The Testing—their one chance at a college education and a rewarding career.
Cia Vale is honored to be chosen as a Testing candidate; eager to prove her worthiness as a University student and future leader of the United Commonwealth. But on the eve of her departure, her father's advice hints at a darker side to her upcoming studies--trust no one.
But surely she can trust Tomas, her handsome childhood friend who offers an alliance? Tomas, who seems to care more about her with the passing of every grueling (and deadly) day of the Testing. To survive, Cia must choose: love without truth or life without trust.
Review:
Series: The Testing #1
Genre: Dystopian/Young Adult
Release Date: 4 June, 2013
Publisher:
Houghton Mifflin Books for Children
Edition: Hardback
Review Written:
8 May, 2014
I have to admit that I am a niche reader. If there's something in the Dystopian Genre, there's a good chance it's on my to read list. The Testing has been on my list for a while now, and while I attempted to read it back in October of last year, I've only now had a chance to grab my own copy and read this lovely book.
Cia Vale's dream is to go into the University, but nobody from Five Lakes community has been chosen in almost ten years. Still, a girl can dream, and Cia does though it seems her dreams will all be in vane as she graduates without incident and no officials fr
om the capital colony of their United Commonwealth are present. That changes the day after graduation however. Summoned to the Mayor's office, Cia finds herself with three other students from Five Lakes who have been selected for The Testing. The Testing is what one has to go through to get into the University, a test to determine only the best for the future leaders of the Commonwealth. Suddenly Cia's world is shifting, and she's starting to learn things she didn't know and possibly didn't want to know.
Informed by her father that she'll likely never see them again and to 'trust no one', Cia heads off for testing though she finds it hard not to trust Tomas. Tomas, a fellow student from Five Lakes, has been Cia's crush for as long as she can remember, and with the world seeming to close in around them, she finds to trust Tomas means having one thing from home to latch onto and not let go. Still, she doesn't take the warning lightly, and it saves her life when her roommate offers her what she's certain are poisoned corn cakes.
Things only spiral out of control from there as the first death in the book show is the death of her roommate by suicide. From there, it's apparent that if you don't pass a test, whether by your own mistakes or by accepting their 'medical' help, you will die. While it's never explicitly said in the books that accepting medical help lands you in a coffin, it can be assumed since it's highly unlikely that they've been sent back to their colonies or sent out to another colony. Slowly, the 108 participants in the testing are whittled down to 29 surviving students from the last, and most dangerous, part of the test. Given the realization her memories will be repressed or erased after the testing, Cia makes a valiant effort to retain them by recording them on a device she'd borrowed from her brother before leaving for the test.
While Charbonneau's ideas are interesting, I found that the idea of the test seemed a bit underdeveloped and brutal. While, I understand that was the writer's intent, I find it unfeasible that a nation or commonwealth would be willing to kill off more than seventy of supposedly the brightest upcoming minds of their range. It also seemed unlikely that while being remote, Five Lakes might not have reported all of their students who would have qualified for a decade before Cia. Not unheard of, but unlikely. I was reminded of the Silence in Doctor Who from the adults who govern the tests, silent guides and influences on the students and largely unseen though always watching and listening.
Still, this story is an interesting enough one, perhaps a bit close to the idea of the Hunger Games, but a must read for any Dystopian fan.